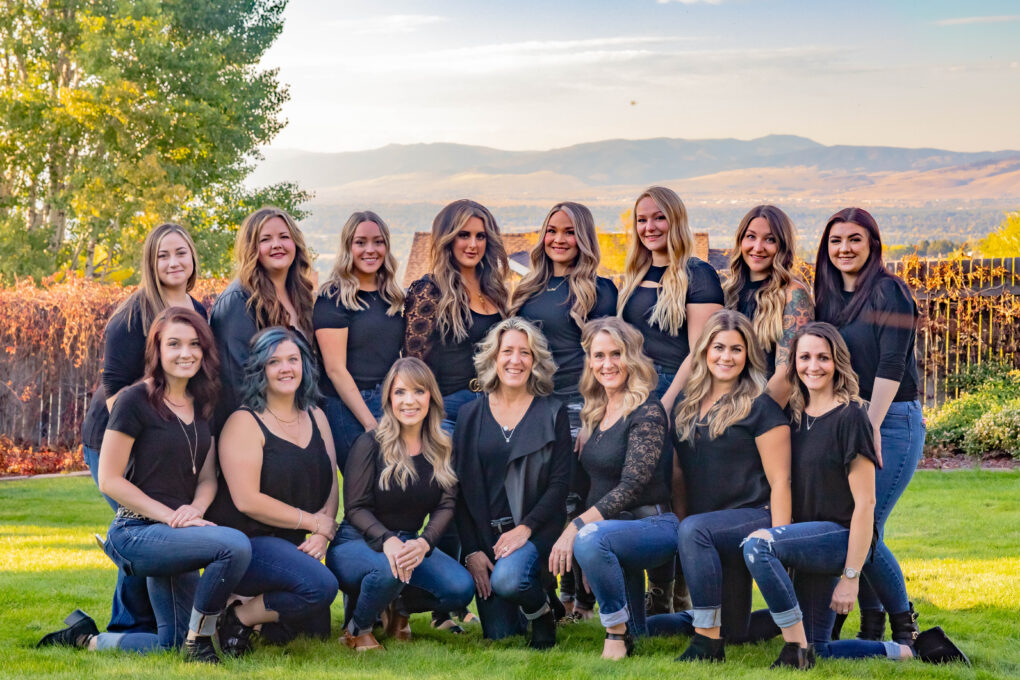 Experience Burton's Classic Hair Co.
Burton's Classic Hair Co. is a L'ANZA Healing Center located in Missoula, Montana. Locally owned and operated, Burton's has served the Missoula community for over 50 years.
As Missoula's premier full service salon, we offer a wide variety of services. Whether it's women's and men's haircuts, hair coloring, hair painting (balayage), highlights, lowlights, perms, specialty updos, blowouts, full body waxing, manicures, pedicures, acrylics, gel polish, hair extensions, or eyelash extensions, Burton's has it all! Click the link below to check out all of the services we offer.
Our stylists are extensively trained and focus greatly on continuing education. An important goal of ours is to ensure our clients receive the best services available. In order to achieve this, education is one of our most important priorities. By visiting national symposium events throughout the year, our stylists are able to stay current in the beauty industry. We have access to the best of the best educational courses and are lucky enough to host most of these classes exclusively in our salon. As a L'ANZA Healing Center, we've received hands-on training by some of the best educators in the L'ANZA family, including Leah Freeman, Mark, Dolan, and Sarah Mac
Customer service is our number one priority. We strive to make sure your experience with us is nothing short of amazing. Whether you are looking for a simple haircut, or for a complete beauty renewal, Burton's Classic Hair Co. is the place to go!
---
Cancellation Policy
We require a card on file for booking any appointment. You may choose to use a different card/form of payment during your appointment, however this card is used to help reserve your time slot. We require 24 hours notice to cancel an appointment with no penalty. Less than 24 hours notice will result in a charge of 50% of the service cancelled. If an appointment is determined to be a "No Show", the card on file will be charged 100% of the service. We ask for as much notice as possible when cancelling/rescheduling appointments.
If an Extension Consultation appointment is determined to be a "No Show" the client will be charged a No-Show fee of $30.00. If you need to reschedule your consultation, please give us a call at 406-721-8889 and we will get you rescheduled.
Walk-ins are ALWAYS welcome!
---
Had an appointment the same day. Amazing. My stylist was Gary. He is the original founder of Burton's starting in Helena. I remember them there. He gave me a great idea for a no fuss haircut. I loved it. I definitely will recommend this business. I plan on going back. The atmosphere was very welcoming. 👍👍👍👍
The best salon in Missoula. From out of state and needed a hair cut. Gary did an excellent job! The products are superb! Very reasonable prices. I would highly recommend!!
Lisa did an amazing job on my cut & balayage. The color looks exactly like the picture I showed her down to the smallest detail. Plus she has such a fun personality ✨. I have thick hair so I get nervous going to new people but would highly recommend her.
Absolutely adore Cory! She is incredibly talented and I trust her with my hair care! Fantastic service every time!
Bouldins Girl october1983
2022-06-22
Burton's is absolutely amazing. The ladies there are super sweet. Nicole always does a phenomenal job on my nails
Get in with Ryan Putnam at all costs, I would follow that woman and her talent across the country. Thank you Ryan for saving my hair after so many impulse dyes/cuts. You truly are gifted and I enjoy our visits every time😊.
Lisa is awesome! Took the time to talk to me and figure out just what color highlights would work best for me and my hair and explained every option in order for me to make a good decision. She was spot on and I love my look!!!!